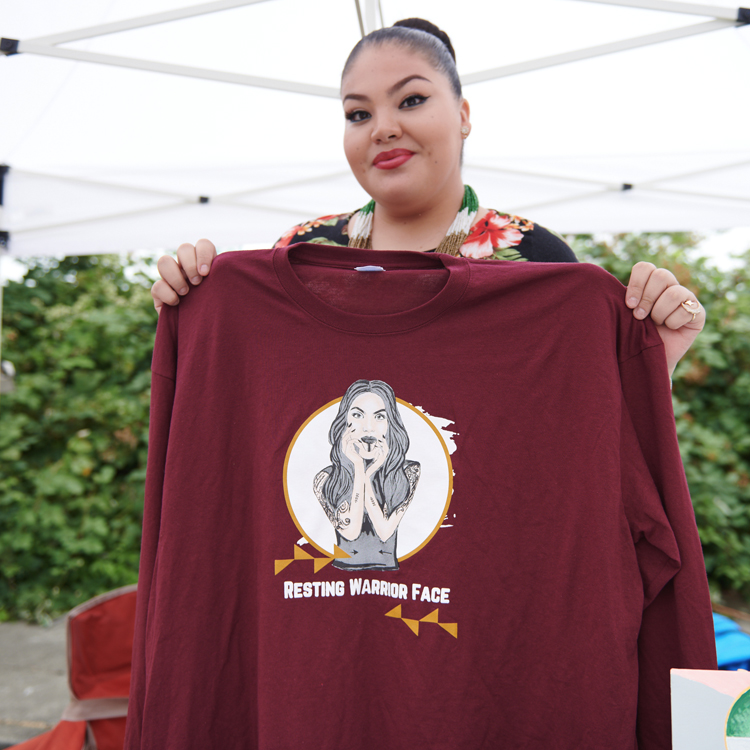 Why Support Portland Indigenous Marketplace? 
This is a grassroots nonprofit and any and all donations are greatly appreciated. This organization relies heavily on grant funding from many generous foundations and other funders. Unrestricted funds from programs like the Blue Bag program, Raffles, Equipment and Booth fees and other fundraising efforts are especially important because unrestricted funds save staff time and energy and allow for in house decisions on spending funds on unpredicted and immediate needs (this is almost never possible with grant funding), these are only a couple reasons why this organization is grateful for your support at any level. 
Thank you!
Make a $ Donation
[Tax ID # 84-4909601]
You can support our non profit in many ways but the most direct ways are to make a tax deductible donation or to purchase raffle tickets.  Your donations make a difference in strengthening this organization's programming and community.
Become a Sponsor
If you are interested in sponsoring one of the events that the non profit Portland Indigenous Marketplace hosts please complete this form and staff will follow up with your business/group/organization/agency etc as soon as possible.
All sponsorships must be approved and payment must be received before any sponsorship will be promoted and publicly acknowledged. Link to the form
https://forms.gle/kH9q9iTfTg4HpTcx6
Purchase Raffle Ticket
HOW TO PARTICIPATE? Make donations though all forms listed below or donation Paypal portal above anytime or come to a event and you can pay with cash!
Raffle ticket funds also directly support the artists that we work with and the efforts that we do to provide spaces for our Indigenous community to strengthen. Raffle winners will be announced live at our events, but you are able to purchase a raffle ticket anytime! Winners will be announced             

 Nov 26th at 2pm

 Dec 8 at 7pm
Raffle winners do not have to be present to win a raffle. Portland Indigenous Marketplace will follow up with all winners and raffle prizes will be shipped if need be.  Staff assigns you a number and winner will be picked with a random number generator app.
Please purchase raffle tickets through Venmo and Ca$h app
Cash App@Indigenousmrktplc
Support A BottleDrop Give Fundraiser
Portland Indigenous Marketplace is a participating nonprofit in the BottleDrop Blue Bag Program. Please come to one of the in person Indigenous Marketplace events, email info@indigenousmarketplace.org or call 503-901-3881 to pick up a stickered Blue Bag!
Become a Vendor
If you are interested in being a Indigenous/Black artist/entrepreneur that we work with fill out our General Application and mark "Indigenous Marketplace Programming."  ¿Hablas español?
aplicación de proveedor disponible en español tambiém.
Please be patient with us and our small staff. We will always try and follow up with every application. Thank you.