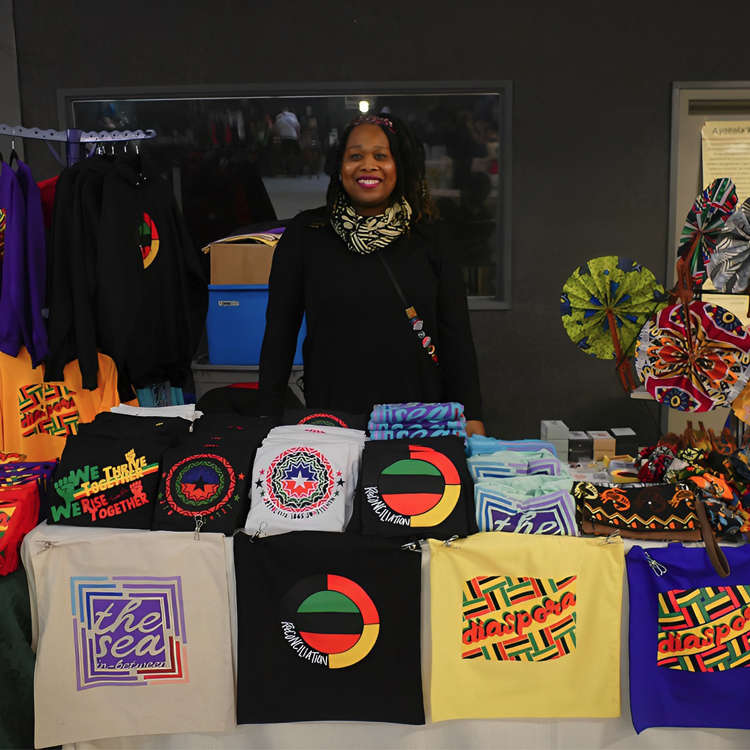 Portland Indigenous Marketplace
Provides a Variety of
Programming and Services
Indigenous Marketplace Programming/Vendor
Indigenous/Black Artists and Entrepreneurs who participate in the Indigenous Marketplace programming events. Vendors selling their hand made and original designs are prioritized in this programming.  ¿Hablas español?
aplicación de proveedor disponible en español también. (You will be required to fill additional forms out to become an approved participant/vendor of our Indigenous Marketplace programming, new vendor applications will only be processed in January 15th and June 15th of every year. Click the "Become a Vendor" button for the vendor application.
Community News
All community members who have signed up to be a part of this program, receive 1-5 monthly emails about Indigenous events and programming. This is open to the public
Indigenous Community Circle
Keeping community partners updated with events and programming ready to be shared. This is a email list serve for Portland Indigenous Marketplaces' community partners and supporters that want ready to share information.
Art and Culture
The Art and Culture Programming gives participants Access to art and culture workshops and equipment. Quarterly workshops will include beaded lanyard making, silk-screening, tie-dye, block carving and more. Simple sign up with an email and stay tuned for updates on times and locations. This organization will try to cover all costs but reserve the right to charge fees for some workshops.
The Organizations Definition of Indigenous People
Indigenous– Indigenous communities, peoples and nations are those who, having a historical continuity with pre-invasion and pre-colonial societies that developed in their territories who are determined to preserve, develop and transmit to future generations their ancestral territories and their cultural/political identity, as the basis of their continued existence as peoples, in accordance with their own cultural patterns, social institutions and systems. Tribal Enrollment or Blood quantum are not required to fulfill our definition of Indigenous.
Black/African Diaspora– The African Diaspora is the worldwide demographic of Indigenous communities descended from Native sub-Saharan Africans or people from Sub-Saharan Africa. Including the forced and voluntary movement of Africans and their descendants to various parts of the world including but not limited to, the Caribbean, South America and North America during the modern and pre-modern periods.​
The Indian Arts and Craft Act (IACA):
---
The Indian Arts and Crafts Act (IACA) standards will be upheld when the Indigenous/Black Artist/Entrepreneur is Native American (Indigenous to the United States) and selling culturally traditional items. We also reserve the right to apply the spirit of the IACA to all Indigenous/Black Artists/Entrepreneurs selling culturally traditional items. If the seller is not selling culturally traditional art/services/jewelry/crafts/products then the IACA standards do not apply. These standards ONLY apply for culturally traditional items/services being sold.
According to the U.S. Department of Interior:
---
"The Indian Arts and Crafts Act (Act) of 1990 (P.L. 101-644) is a truth-in-advertising law that prohibits misrepresentation in the marketing of Indian art and craft products within the United States. It is illegal to offer or display for sale, or sell, any art or craft product in a manner that falsely suggests it is Indian produced, an Indian product, or the product of a particular Indian or Indian tribe or Indian arts and crafts organization, resident within the United States. For a first time violation of the Act, an individual can face civil or criminal penalties up to a $250,000 fine or a 5-year prison term, or both. If a business violates the Act, it can face civil penalties or can be prosecuted and fined up to $1,000,000.Under the Act, an Indian is defined as a member of any federally or officially State recognized tribe of the United States, or an individual certified as an Indian artisan by an Indian tribe. The law covers all Indian and Indian-style traditional and contemporary arts and crafts produced after 1934. — The Act broadly applies to the marketing of arts and crafts by any person in the United States. Some traditional items frequently copied by non-Indians include Indian-style jewelry, pottery, baskets, carved stone fetishes, woven rugs, kachina dolls, and clothing."
Become a Vendor Today
Join Portland's First Exclusive Indigenous Marketplace and start selling at the various markets and bazaars organized by us. Fill out the form and get listed on the online directory as well. You also get automatically subscribed to our community newsletter and get information about various arts and culture workshops
Join Now
Get in Touch. Get Involved.
3439 NE Sandy blvd, #815, Portland, Or, 97232 (Mailing Address)
info@indigenousmarketplace.org